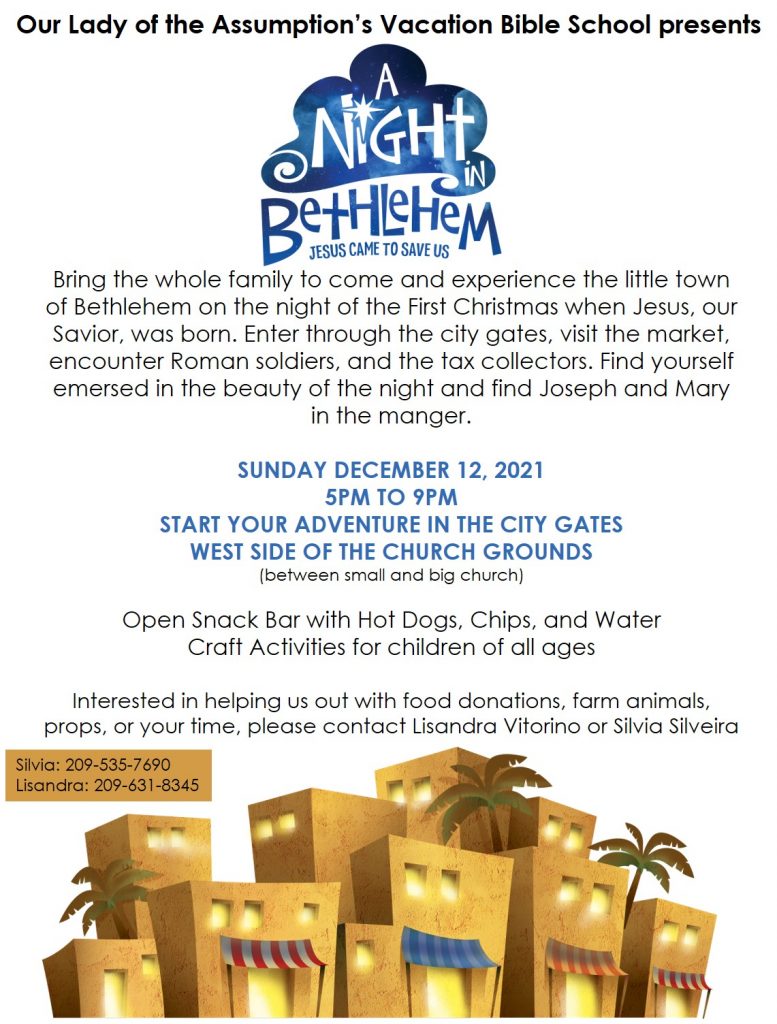 A Night in Bethlehem Details
We are testing the waters and creating something new and memorable here at Our Lady of the Assumption. A Night in Bethlehem will be a night where you and your family will walk through the city gates of Bethlehem on the night that Jesus was born. You get to walk the market street, interact with the native people of Bethlehem, and your children will have a chance to create some crafts as well.
SUNDAY DECEMBER 12th 5PM to 9PM
Come whenever you want during those 4 hours; the event is not a schedule program; come when you want and for how long you want.
As you enter the city gates, you will be greated with soldiers and directors. You will take your Night in Bethlehem picture where you will receive your ticket to avoid any issues when you meet with the tax collector in town. You will then walk the city and meet all kinds of people that you can interact with and see how things were done during that time. As you walk through the city, you will be able to read the story of Mary and Joseph as they traveled through the town to find a place to stay. Just like both Mary and Joseph you will find the Inn full and the star of Bethlehem shining on the Stable. There, along with many farm animals, you will find Mary and Joseph holding baby Jesus.
As you exit the town, your children will have the opportunity to do the crafts that they received from the shop keepers in the city. There will also be hot dogs, chips, and water for sale. Along with hot chocolate and coffee.
As we continue to plan for this event, there are ways that you can help or donate:
– We are looking for people that will let us borrow Ez-Ups/Tents
– We are looking for children, teens, and adults to help with the acting of town members (soldiers, carptenters, farmers, people walking the street, tax collectors, etc.)
– We are looking for food donations of hot dog bread, hot dogs, chips, and waters- any quantity helps; we would not need to collect these items until the week of December 6-10
FREQUENTLY ASKED QUESTIONS:
– If my children or I volunteer, does it have to be for the full 4 hours? — NO; we can have "shifts" set up for different stations- let us know ahead of time so that we plan accordingly
– Does the event take all four hours?— NO; You and your family can come any time between 5pm and 9pm; in reality, a proper walk through of the city, making the crafts, and possibly eating should take you 30-40 minutes (about)
– What if I have items that can work as props for the event?— GREAT!! We will use anything you may have. If you need it back, we will mark it and make sure to return it back to you; if you wish to donate it for future Nights in Bethlehem, we would gladly and greatfully accept them
– I would love to take on a whole booth to set up and decorate?— THAT IS AMAZING! Any family that would like to take on a full station/booth at the event is more than welcome to
– Will costumes be provided? What do we wear? — YES, we are working hard to make sure we have enough costumes for all people of Bethlehem; you just need to wear warm clothing underneath your costume, it will be cold
– What time are you planning to set up? — Currently the plan is to set up Sunday December 12th in the morning- about 10AM; this may change as we get closer
– If we get a part, will we get like a script of background information on what role we play and what we should do?— DEFINETLY, we are currently working on getting all the fine details figured out.