The Daughters of Mary
A CATHOLIC WOMEN'S MINISTRY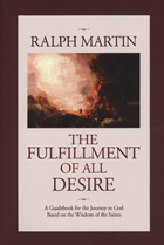 Formation
Our faith is rich and beautiful.
As a community of Catholic women, we gather to learn more about God through His Word and the teachings of the Catholic Church.
This year we delve more deeply into prayer, it's all encompassing connection in our lives and by extension the lives of our community and our church. We will be using Ralph Martin's The Fulfillment of All Desire.
Drawing upon the teaching of seven Spiritual Doctors of the Church, Ralph Martin presents an in-depth study of the journey to God. This book provides encouragement and direction for the pilgrim who desires to know, love, and serve our Lord.
The book and the study guide can be purchased through Renewal Ministries website and Amazon.